Vincent van Gogh Farmhouse in Nuenen (1885)
Farmhouse in Nuenen is a landscape painting of a small farm house.
Cottages is a subject of paintings created by Vincent van Gogh from 1883 and 1885. This is related to the Peasant Character Studies that Van Gogh worked on during the same time period. Inspired by the work of Jean-François Millet and others working in the 'peasant' genre, Van Gogh became interested in representing peasant life in his art. To depict the essence and spirit of their life, he for a time lived as they lived, he was in the fields as they were, enduring the weather for long hours as they were. To do so was not something taught in art schools, he wrote, a reflection of his frustrated by traditionalists who focused on technique more than the essence of the subject matter.So thoroughly was he engaged in living the peasant lifestyle that his appearance and manner of speech began to change. This alienated some of his friends and family, but was a cost, he believed, necessary for his artistic development.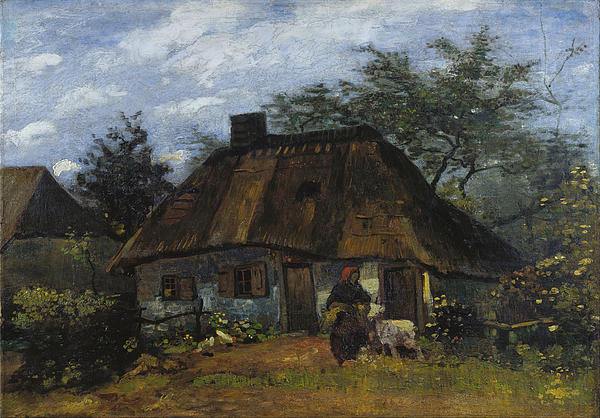 Buy Van Gogh Prints at Fine Art America